Updated
What happens if Proposition 1 is defeated?
The Quick Answer
The City has just released the first draft of its budget for the 2023-2024 biennium. This budget provides funding for the RADAR program and increases staffing in the City's maintenance and recreation departments. No notable service cuts were mentioned.
The budget was written assuming that Proposition 1 does not pass. Even so, it adds funding for new services (including the RADAR program).
If proposition 1 is defeated, the budget makes clear that the City will still have enough revenue for at least the next two years. The City would then be able to place another Levy Lid Lift initiative on the ballot next year — hopefully, one with a more reasonable tax increase.
---
The Details
At the October 10 City Council meeting, City staff made their first presentation on the proposed 2023-2024 budget1. (You can watch the presentation for yourself — a video of the meeting is available from the City's council meeting archive page. The budget presentation starts at around 26:30.)
Here are some takeaways.
No Drastic Cuts
The budget (prudently) assumes that Proposition 1 does not pass. Nevertheless, the budget adds funding for2:
The much-touted RADAR program and its Mobile Crisis Response Team.
A new parking enforcement program.
Compensation for City Board & Commission members.
Staffing increases in the Recreation, Parks & Maintenance, and IT departments.
There are no service cuts — much less, drastic ones — mentioned.
The City Does Not Expect Red Ink
The City predicts (again, if the Levy Lid Lift is defeated) that expenditures will exceed revenue by $358,0003 for the biennium. That is peanuts compared to:
The total general fund budget for the biennium ($118 million).
The general fund balance — i.e. "what's in the bank account" ($35 million).
The size of the tax increase written into Proposition 1 (more than $15 million for the biennium).
If Proposition 1 is defeated, the City has plenty of resources to make it through the next couple of years, even while funding new services (including RADAR). The City will then have a chance to put another Levy Lid Lift measure — hopefully, one with a more reasonable tax increase — on the ballot next year.
Proposition 1 Creates Large Surpluses
Staff presented this slide, which assumes that actual expenses are 99% of budgeted expenses. Staff characterized this as "probably a fair picture of reality since we do know that, generally, our expenses come in slightly under budget and our revenues slightly higher than budget"4. It shows that, if Proposition 1 passes, it is expected to create, for all practical purposes, a surplus in every one of the six years that the Lid Lift covers.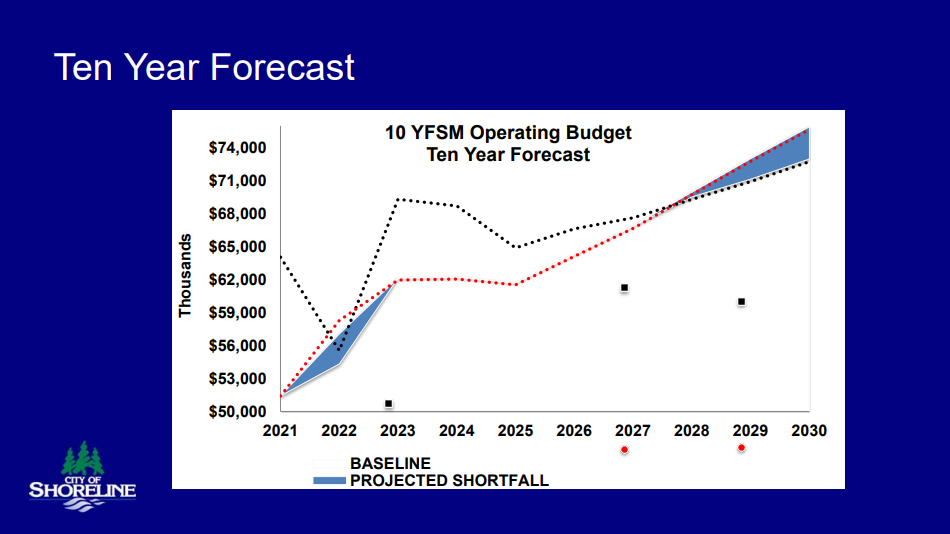 Note that the surplus in the first years of the Lid Lift is predicted to be quite large. The graph appears to show surpluses of around $9 million per year in 2023 and 2024.
It's not at all clear why the City needs so much more revenue.